Occupational therapists (OT's) are qualified to help people with a physical, sensory, or cognitive disability be as independent as possible in all areas of their lives. OT can help kids with various needs improve their cognitive, physical, sensory, and motor skills and enhance their self-esteem and sense of accomplishment.
The Village Education Centre provides occupational therapy services for children with Autism spectrum disorders, Down syndrome, Cerebral palsy, Dyspraxia, Global Developmental Delays, Dyslexia, Sensory Processing Disorders, ADD, ADHD and many other developmental conditions and delays.
What is occupational therapy?
How can we help?
OT's are interested in helping children in their daily occupations. These include occupations at school, home and in the community. If a child is unable to complete an occupation such as; using cutlery to eat their lunch, organize their belongings, play in the playground or use a pencil and ruler to record their work, the OT has to assess what is the disruption in their function that is hindering their occupational performance.
The functional areas we are interested in include: gross motor skills, fine motor skills, hand dexterity, cognitive perceptual skills, sensory integration, visual motor skills, motor planning skills, oral motor skills, play skills, socio emotional skills and activities of daily living (ADL's).
We are then able to improve this function by a Compensatory approach (Providing equipment), Education approach (ADL training), Teaching skills (Improving Fine motor, gross motor and hand dexterity) and Remediation (correcting handwriting grasp and posture)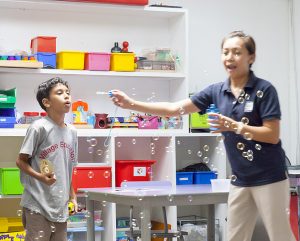 Assessment FAQ 
What do I need to bring to the assessment?
Any previous assessments

School reports
 How long will the assessment last?
The assessment duration will depend on the ability of the child.
Approximately 1-2 hours.
 What happens during the assessment?
The Occupational Therapist assesses the visual perception, fine motor and gross motor proficiency of the child. The Occupational Therapist uses challenging-like tasks that measure all those skills.
 What's next after the assessment?
After the assessment a meeting will be held with the parents and specialists to discuss further recommendations, curriculum modification, resources and intervention programmes to enhance learning.
Useful websites for further information:
To book an appointment to see one of our specialists please click here.
For further information about our outreach service please click here.