Pre school services are available for students usually between infancy and nursery (kindergarten) age. These services are to best prepare a student for school and to provide any additional support that might be necessary. This can aid in the transition to nursery and help to also highlight any areas of concern for the learning establishment.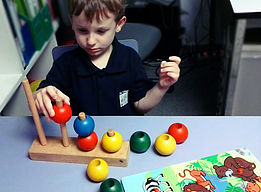 Literacy and language difficulties
Language and Literacy delays can affect up to 10% of the population. It is, therefore not uncommon for a child in pre-school to show some difficulties grasping language and literacy concepts.
It is important to secure language and literacy foundations in the early years. Many research teams have conducted observations in early years environment and has clearly shown that early intervention is the key to successful progress.
There is documented evidence that intervention after the age of 7 years if not as effective as those who had received early intervention and training.
Pre-school indicators:
Directional confusion between left and right up and down, in and out

Difficulty with sequencing; alphabet, colored bead sequence, days of the week, months of the year or numbers

A family history of dyslexia/reading difficulties

Has persistent jumbled phrases/words i.e. emblope, cubumber/flutterby

Word finding difficulties finds it difficult to remember names for everyday objects, table/chair

Difficulty learning nursery rhymes and rhyming words

Difficulty learning to sing the a,b,c song

Enjoys stories but shows no interest in text

Difficulty following multiple instructions

Difficulty with fine and gross motor skills

Difficulty clapping to a simple rhythm

Forgets friends or teachers name
Assessments:
Speech and language observation

Speech and language assessment

Dyslexia Early Screening Test (DEST)

Behavioral Observations
Pre-School Support Classes:
Classes are conducted on a 1:1 basis or small group to ensure full attention is given to each child.
Speech and language sessions with qualified therapists

Literacy sessions with specialist teachers of literacy
For more information about pre school support please contact us by clicking here.