Speech and Language Therapists are qualified to administer and interpret assessments to identify speech, language and communication disorders, and to use the results of assessments and observations to develop and deliver programmes of therapy.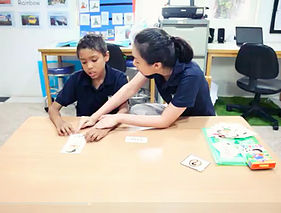 Who do we work with?
The Speech and Language Therapists at The Village can assess children with a wide range of difficulties, including:
Mild, moderate and severe learning disabilities

Autistic Spectrum Disorders

Asperger's Syndrome

Physical disabilities

Language delay or disorder

Speech delay or disorder

Specific Language Impairment (SLI)

Selective mutism

Stammering

Social communication difficulties
Why Assess?
In the UK it is estimated that about 1 in 10 children have a communication disorder. If this is left without access to speech and language therapy these difficulties can have a huge impact on the child's educational achievement, health and wellbeing. Research shows that early intervention is often the key to helping a child overcome their difficulties. We therefore aim to identify a child's difficulties as early as possible so that the appropriate strategies can be implemented to help them at a young age.
Assessment helps to pinpoint what may be causing the child's difficulties and helps parents, schools and other professionals understand how best to support the child. The results of the assessment help inform target setting for therapy.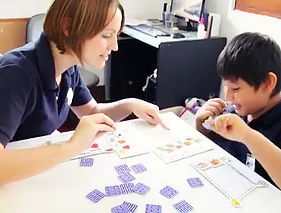 Assessment FAQ
What do I need to bring to the assessment?
A completed Home Questionnaire and consent form (these will be emailed to you prior to the assessment)

Any previous reports from school or other professionals
How long will the assessment last?
The assessment session includes a case history meeting with parents, which can last up to an hour.  The 1 to 1 assessment with the child lasts 1 to 2 hours.
What happens during the assessment?
The Speech and Language Therapist will take a detailed case history from the parents/carers.  This helps get a clear idea of how the child communicates in different environments and helps the therapist get a detailed picture of the child's previous medical and educational history.
The Speech and Language Therapist will spend time observing and/or assessing the child using a mixture of formal and informal assessment tools.  The therapist will usually look at all three areas of communication during the assessment – expressive language, understanding of language and social use of language.
Each assessment is different and tailored to the child's needs.  For some children, several shorter sessions may be needed, while others are able to complete the assessment in one longer session.
What's next after the assessment?
After the assessment the therapist spends time collating all the data, scoring the assessments and writing a written report.  A feedback meeting is then arranged to discuss the result of the assessment and to make plans for any intervention that needs to be carried out.
Useful websites:
http://www.ican.org.uk/frontpage.aspx
http://www.rcslt.org/
http://www.autism.org.uk/
Download the Speech and Language Therapy PDF
For further information or to book an assessment with one of our Speech and Language Therapists please click here.