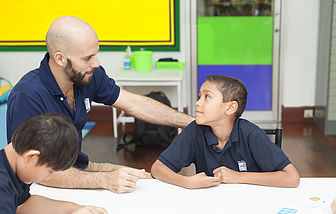 Alongside the National Curriculum each student has an individual education plan (IEP). The IEP is tailored to the individual student's needs as identified by the IEP evaluation process, this helps teachers understand the student's difficulties and how they affect the learning process.
The IEP describes how the student learns, how the student best demonstrates that learning and what teachers can do to help the student learn more effectively.
Key considerations in developing the IEP include assessing students in all areas related to the known difficulties, simultaneously considering ability to access the general curriculum, considering how the difficulties affect the student's learning, developing goals and objectives that correspond to the needs of the student, and ultimately choosing a placement in the least restrictive environment possible for the student.
The IEP's are regularly maintained and updated over the year and is meant to ensure that students are able to participate in all areas of the curriculum. We extend an invitation for all parents to discuss and collaborate in making SMART targets for their child at the beginning of each term.